Description
FEATURES
BE INSPIRED BY HIGH-PERFORMANCE 5.1 AUDIO WITH IMPRESSIVE BASS
Let the Inspire T6300 5.1 surround speaker system elevate your movie, game and music experience to new heights! With Creative's Dual Slot Enclosure (DSE) design, the speakers are ingeniously constructed to produce louder, more pronounced mid-bass out of their compact shells. Each satellite also features the Creative Image Focusing Plate (IFP) design for accurate sonic directivity and natural tonal balance. The speaker system comes with bold front satellites, smaller rear and center satellites, plus a powerful down-firing ported subwoofer for explosive bass. It makes the perfect complement to any desktop computer. Surround yourself with the most compelling 5.1 audio experience today with the Inspire T6300!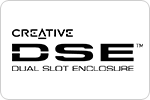 Big sound from a compact system
To increase loudness and bass, speakers generally require fairly long and wide port tubes. The Inspire T6300 features the Creative DSE design, which enables the speakers to achieve louder and deeper playback even when constrained to a compact housing. This is made possible by separating the port tube into two separate slots and reconstructing them to fit into a tight enclosure.
Click here to learn more about DSE design.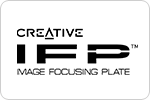 Enjoy natural sounding audio
Our newly-improved Creative IFP design features an extended flare surrounding the satellite driver to provide an even wider acoustic sweet spot. This improves sonic directivity to the listening area, giving music more focus while preserving tonal accuracy. With more natural-sounding audio, you'll feel as if the concert is performing live, right there in your room!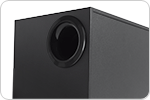 Powerful subwoofer with adjustable bass
Everyone likes their bass in a different way – some like explosive thumps, others prefer it light. Simply adjust the bass level of the powerful, down-firing ported subwoofer just the way you like it!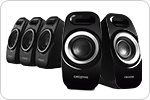 Amazing surround sound
The speaker system comes with two larger, distinctive front satellites that complement any entertainment system setting; and three smaller rear and center positional satellites for more discrete placement.
Together, they deliver accurate 5.1 positional audio during games and movies for the most realistic and amazing experience ever!
REVIEWS
GAMINGSHOGUN

Overall, the Creative Labs Inspire T6300 5.1 speaker system is a very decent surround sound system… especially for your favorite video games and action movies.

GADGET REVIEW

I definitely appreciate the enhanced crystal clarity and the additional attention to tonal accuracy.
CUSTOMER REVIEWS
M. FREYNE

Excellent product, I have used the Inspire T6300 to replace a old high end sound system and it has surpassed my expectations. It is hooked up to the Creative Sound Blaster X-Fi Surround 5.1 Pro USB and the sound is amazing. I'm absolutely delighted with this purchase.
A CLOSER LOOK
SPECIFICATIONS
Dimensions (H x W x D)Subwoofer: 175.0 x 227.0 x 263 mm (6.89 x 8.94 x 10.35 inches), Front Satellite: 86.0 x 177.0 x 93.0 mm (3.39 x 6.97 x 3.66 inches), Center & Rear Satellite: 72.0 x 147.0 x 79.0 mm (2.83 x 5.79 x 3.11 inches)
WeightFront Satellite: 2 x 274g (2 x 9.7oz)
Center Satellite: 258g (9.1oz)
Rear Satellite: 2 x 319g (2 x 11.3oz)
Subwoofer: 2.4kg (5.3lbs)
System Configuration5.1 system
Connector Type5.1 Analog Jack
ColorBlack
Remote ControlWired

PACKAGE CONTENTS

2 large satellite speakers (Front satellites)
3 medium satellite speakers (Rear and center satellites)
1 subwoofer
1 Warranty and Technical Support booklet
1 Quick Start guide

WARRANTY
1-year Limited Hardware Warranty