Description
HIGH-PERFORMANCE 2.1 SPEAKER SYSTEM WITH AMAZING BASS
Get ready to be blown away by the impressive performance of the Creative Inspire T3300 2.1 speaker system. It delivers superb bass and amazingly accurate full spectrum audio that is simply the best in its class. The speaker system comes with a large down-firing ported subwoofer with an adjustable bass level. The audio spectrum of the satellites have been fully enhanced by incorporating Creative's Dual Slot Enclosure (DSE), a design feature that produces louder mid-bass even in tight enclosures. In addition, with Creative's Image Focusing Plate (IFP) design, which improves sonic directivity to listening areas, you get more focused music that is louder, and with increased mid-bass, while retaining tonal accuracy. Now you can enjoy all the details in the audio from your desktop and many other audio devices!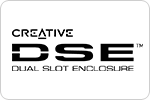 Big sound from a compact system
To increase loudness and bass, speakers generally require fairly long and wide port tubes. The Inspire T3300 features the Creative DSE design, which enables the speakers to achieve louder and deeper playback even when constrained to a compact housing. This is made possible by separating the port tube into two separate slots and reconstructing them to fit into a tight enclosure.
Click here to learn more about DSE design.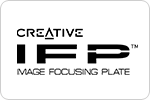 Enjoy natural sounding audio
Our newly-improved Creative IFP design features an extended flare surrounding the satellite driver to provide an even wider acoustic sweet spot. This improves sonic directivity to the listening area, giving music more focus while preserving tonal accuracy.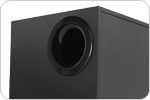 Powerful subwoofer with adjustable bass
Everyone likes their bass in a different way – some like explosive thumps, others prefer it light. Simply adjust the bass level of the powerful, down-firing ported subwoofer just the way you like it!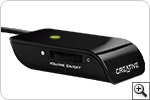 Easy access to controls
The power and volume control are integrated into one independent wired remote control for your convenience and ease of use.
CUSTOMER REVIEWS
E. Y. M. FAI

Best 2.1 bassy speakers at this price range. Cheap & has great bass! Love it! My 2nd set of T3300. In fact, just bought my 3rd set of speakers – Creative Gigaworks T3!

E. NG

Highly recommend for anyone looking for a desktop 2.1 speaker setup on a budget. The bass is tight, highs are nice and sparkly, mids are soft. Only problem is that the subwoofer can't handle too low of a subass, it has more mid bass than subbass. The price to performance ratio on these speakers are excellent and you are totally getting your money worth.

A. C. HWEE

Appearance of the speakers and woofer are neat and presentable. Smooth glossy surface, flawless upon unwrapping. Produced good sound as compared to speakers from the device. Definitely able to produce loud but nice sound. Adjustable bass on the woofer. Although its small in size, sound produced are commendable. Great device for the basic upgrade from stock speaker.
A CLOSER LOOK
SPECIFICATIONS
Dimensions (H x W x D)Subwoofer: 160.0 x 214.0 x 243.0 mm (6.30 x 8.43 x 9.57 inches), Satellite: 86.0 x 177.0 x 93.0 mm (3.39 x 6.97 x 3.66 inches)
WeightSubwoofer: 1.87kg (4.1lbs), Satellite: 2 x 320g (2 x 11.3oz)
System Configuration2.1 system
Connector TypeStereo Jack
ColorBlack
Remote ControlWired

PACKAGE CONTENTS

2 satellite speakers
1 subwoofer
1 Warranty and Technical Support booklet
1 Quick Start guide

WARRANTY
1-year Limited Hardware Warranty