Photo Album Maker : Picasso DG Photo Album
Single software solution for making professional album for Wedding, Pre-Wedding, Baby Shower, Birthday, Holidays, School and many more events. Create professional album, Simple Photo Books, Calendar, Invitation, Magazine, Brouchers, ID-Cards, Mug Print, T-shirts, Collage Making, Greeting Card, Banner, Gift Design, Passport Package, Visiting Card and many more…
HIGH QUALITY COLOR CORRECTIONS
READYMADE COLOR PRESETS
BOKEH EFFECT
HIGH QUALITY EXPORT
MULTILANGUAGE SUPPORT
... people are viewing this right now
---
Automatic Photo Album Making Software Picasso Dg Photo Album

Single software solution for making professional album for Wedding, Pre-Wedding, Baby Shower, Birthday, Holidays, School and many more events. Create professional album, Simple Photo Books, Calendar, Invitation, Magazine, Brouchers, ID-Cards, Mug Print, T-shirts, Collage Making, Greeting Card, Banner, Gift Design, Passport Package, Visiting Card and many more…
Picasso Dg Photo Album is specially designed for professional photographers and designers who need powerful in-built tools, speed, efficiency and ease of use to design unique and creative photo books, album pages, calendars etc. in a very less time. Users can save their creations in JPG, PNG,TIFF or BMP format and print their creation on any printer.
High Quality Export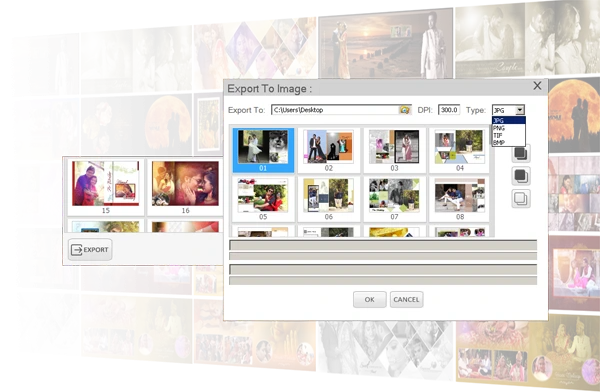 Picasso can support all type of high quality images. Users can export their own creations in High Quality like JPG, PNG, TIFF & BMP format,
All Size Templates
Picasso provide user friendly interface. User can import any size of template on any page size, it can save users time and effort for album creation.
All Languages Support
Picasso support all languages. While creating your own album Picasso support all language Fonts including regional as well as international language fonts.
HQ Color Correction
Picasso provide high quality corrections to users like Hue, Saturation, Brightness, Blur, RGB Corrections etc. User can apply high quality correction to any object.
Bokeh Effects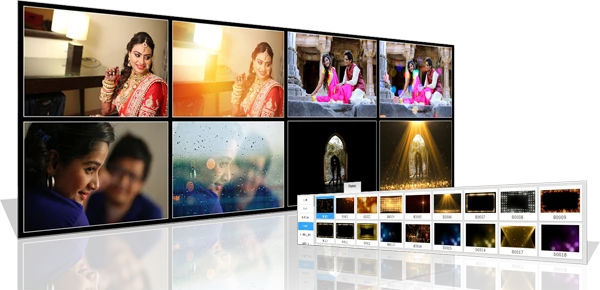 Apply Bokeh Effect on single click in Picasso. Bokeh Effect is a unique feature that we provide to all users. Using Bokeh Effect user can create page more decorative.
Use Your Own Data
User can use their own data in Picasso like Photos, Background, Clipart, Frame, Mask, Textures etc. User can use their own data as well as provided data also.
Auto Save Project
Picasso save project automatically while creating album. No need to save project manually every time, Picasso can save it automatically. It can save users efforts and time.
Free Updates & Support
Satyam Film Provides you Lifetime Free Template Updates, Lifetime Free Software Updates & Free Service Support.
Ready Presets
Picasso Provide readymade presets for users like Color Presets, Effect Presets, Text Presets etc. User can use ready presets on single click only. User can also create their own presets. You can get Software + 1000 Ready Templates + 5 GB Data(Including High Quality Backgrounds, Cliparts,Frame & Mask)
USED PHOTO INDICATOR
While creating Album, selection of photos is major task, Picasso helps you by indicating used photos in photo gallery so user can easliy know which photo used or un-used while designing album.
SHAPES
User can draw any shape in picasso like Circle, Square, Rectanle, Rounded Rectangle, Ellipse, lines etc. Picasso also provide shape styles for line like Solid, Dotted, Dash, etc. We provide various readymade shape presets for Picasso users so user can use this readymade presets on single click.
DEFINE USER OWN ALBUM SIZE
In spite of having many predefined album page sizes, if the size that user require is not present user can define own custom album page size. While define album page size user can define parameters like Margin, Gutter Position, DPI, Border Size & Color etc. Design pages in ready page sizes like 12 X 36, 12 X 24 and many more. User can create page size as per user requirements and go for designing.
DECORATIVE CLIPART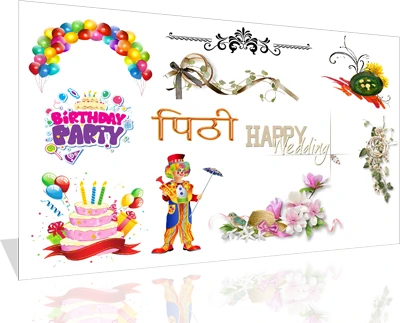 Picasso provide decorative cliparts for their users. User can add clipart on page by single click only. These cliparts user can use to make their page more decorative. User can also import their own cliparts in Picasso also.
Make it fascinating by adding Mask that give user creativity a different level. User can select photo and apply the mask on single click to make creative photo. Picasso provide decorative mask for their user to make user page more decorative. In Picasso user can use their own mask data also.
CROP PHOTO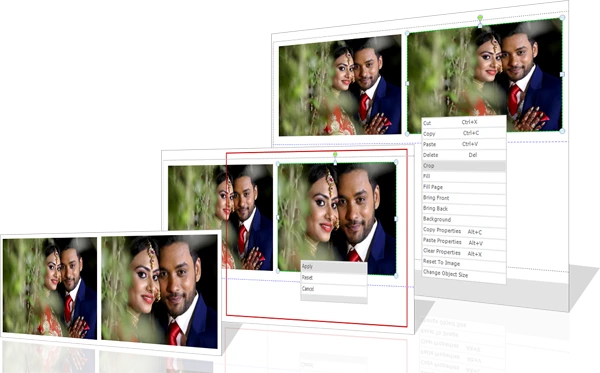 Croping feature make picasso on different level. While cropping photo user can move, reset, zoom-in, zoom-out the photo within area. The photos which are loose composed at the time of event can be easily cropped. Grid on the photos will assist you to adjust the tilt angle perfectly.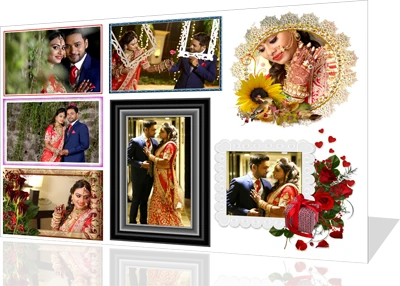 Make it fascinating by adding Frames that give user creativity a different level. User can select photo and apply the Frame on single click to make more creative photo. Picasso provide decorative frames for their user to make user page more decorative. User can import their own frame data into picasso also.
LAYER ARRANGEMENT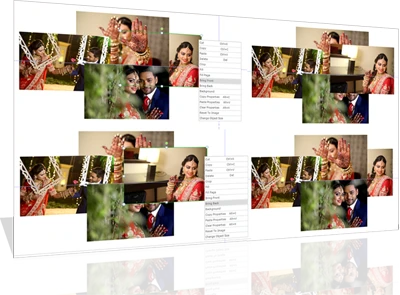 Picasso provide user to work on layer structure also. User can easily arrange object layer like Bring Front, Bring Back, Bring Forward, Send Backword etc. User can apply layer arrangement on any object like photo, clipart, frame, background, mask etc.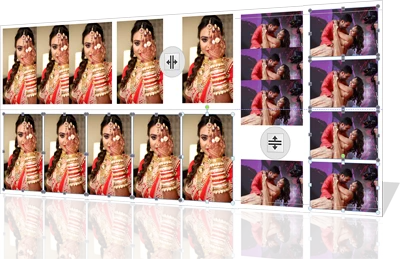 Equal Horizontal and Vertical spacing management in Picasso. User can manage equal space between multiple photos and other object. This feature is very useful to make user work more professional.
ADVANCE ALIGNMENT
Page based alignment and Object based alignment feature provided. User can align multiple object like photos within page area by single click. Object based align work on seleted object within multiple selection of object like top, left, right, bottom, center etc.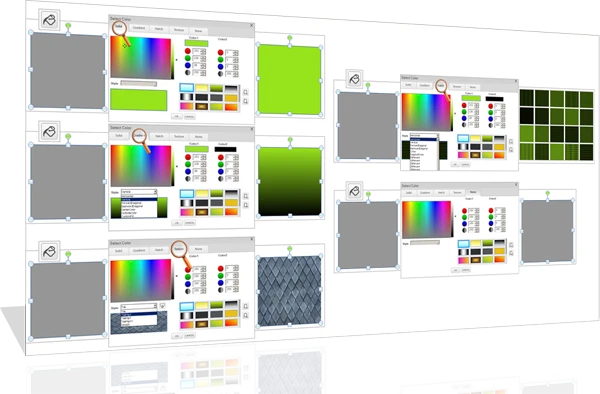 Advance Color Fill Management feature make Picasso more unique. While working on any object in picasso if user want to fill their object like background color, shadow color, outline color, text color etc. Picasso give more advance options for their users. User can select color types like Solid, Gradient, Hatch, Texture or None. User can also pick color from anywhere and fill same. Picasso provide readymade color style and textures for their user and user can also save their own color style.
Create Wedding, Pre-Wedding, Birthday, Holiday, Christmas, Kids, School ,Portfolio and many more album instantly. Just open your favorite template and drag and drop your photo. Create album within a minute.
Picasso provides the smart option of placing the photos on pages, photos which needs to be together will stay together. The photos get fit to the orientation whether vertical or horizontal as per the convenience. It smartly occupies all the frames on a page and makes your album page look more attractive and perfect. It provide user unlimited decorating options. Huge decors collection includes backgrounds, cliparts, masks, frames, shapes, readymade presets etc. gives absolutely unlimited designing options to their users.
You can get Software+ 1000 Ready Templates+5 GB Data(Including High Quality Backgrounds,Cliparts,Frame & Mask)
Installation on your system via Remote Desktop Software (Any Desk)
We also mail you all download links of setups.
*Installation will be done within 24-48 hours
This is a non returnable product.
| | |
| --- | --- |
| Weight | 0.5 kg |
| Dimensions | 20 × 15 × 8 cm |